Application Deadline:
December 1, 2023
---
Interview Notification Deadline:
December 15, 2023
---
Interview Dates:
January 2024 TBD
---
Program Start Date:
August 1, 2024
---
Contacting NM-PIC:
Contacting NM-PIC: Questions regarding the application or interview process may be directed to the NM-PIC Program Director, Dr. Ciara Hansen (
Ciara.Hansen@ihs.gov
) or the NM-PIC program consultant, Todd Helvig (
thelvig@wiche.edu
).
The New Mexico Behavioral Health Institute
2 Full-Time Positions, APPIC Program Code: 253512
General Information:
The New Mexico Behavioral Health Institute (NMBHI) is the only state owned and operated psychiatric hospital in New Mexico. NMBHI is made up of five clinical divisions serving a wide range of public needs. Each division is separately licensed and has its own unique admission criteria.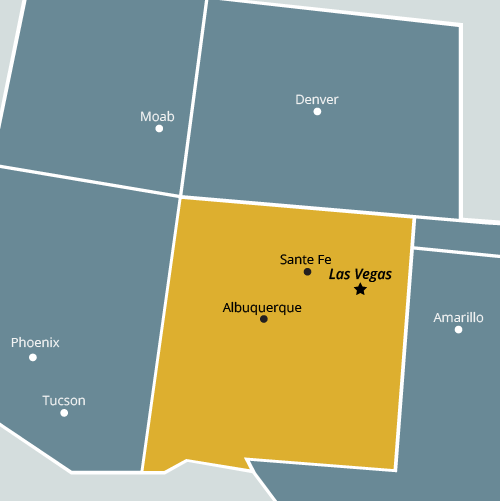 The Adult Psychiatric Division (APD) is an inpatient psychiatric hospital offering acute care to adult individuals. Adult psychiatric services are provided on six units, serving approximately 1000 admissions per year. The Forensic Division (FD) is a hospital-based setting that provides competency restoration services to individuals referred by District Courts across the state. The Center for Adolescent Relationship Exploration(CARE) is a Residential Treatment Center (RTC) that provides treatment for adolescent males ages 13-to 17 who have caused sexual harm and have a co-morbid mental health diagnosis. The Long-Term Care (LTC) division of the state hospital is the largest, restraint-free, nursing home facility in Northern New Mexico. Finally, the Community Based Services (CBS) division is the outpatient division of NMBHI and provides outpatient mental health services in San Miguel, Mora, and Guadalupe counties. They serve approximately 1100 clients. All divisions excluding CBS offer 24-hour care, 7 days per week. The entire NMBHI facility is accredited by the Joint Commission. APD, FD and CBS are accredited under the hospital manual, with CARE under the Behavioral manual and LTC under nursing care manual.
The Internship Experience:
NMBHI interns work with a wide range of patient populations including adolescents, adults, older adults, and forensic populations. They have the opportunity to gain experience in multiple areas of psychology which include, but are not limited to, individual and group psychotherapy, psychological/neuropsychological/forensic testing and report writing, consultation, and supervision. Interns are expected to develop sensitivity to issues of cultural diversity, awareness of professional ethics in the delivery of psychological and forensic services, and self-awareness as these relate to issues that affect professional functioning. Throughout the year, interns closely interact and collaborate with other disciplines such as psychiatrists, medical providers, nurses, occupational therapists, physical therapists, rehabilitation therapists, social workers, dieticians, psychological technicians, and attorneys. Interns who complete an internship with NMBHI are expected to be well-rounded in the practice of psychology and leave with the skills necessary to treat and assess diverse populations.
Example Schedule

Rotation Opportunities:
Interns at NMBHI complete a year-long rotation in the Forensic Division with additional training experiences and available rotations in three other divisions including the Adult Psychiatric Division, Long-Term Care, and The Center for Adolescent Relationship Exploration, as available.  Each rotation provides a unique learning experience that enhances the intern's clinical, diagnostic, and assessment skills and knowledge. For each rotation, interns participate in daily rounds and treatment team meetings, didactic trainings, individual and group supervision, as well as other tasks that are delegated by the supervising psychologist.
Forensic Division (FD; Year-long placement):
The Forensic Division of NMBHI is a 116-licensed bed facility.
The primary mission of the Forensic Division is to provide competency and restoration services to individuals referred by District Courts across the states. Additional services include providing risk assessments to referring District Courts all pursuant to statutory mandates. The Forensic Division is made up of four inpatient psychiatric care units. The residential units are: Acute Care Unit (ACU); Continuing Care Unit (CCU); Women's Unit; and Maximum-Security Unit (MSU). Individuals referred to the facility are charged with at least one felony- level offense, and in need of treatment to attain competency to proceed with adjudication. The physical environment is comparable to other areas of the hospital and consists of dormitory wings with patient rooms, large day room areas, and recreational courtyards. The Forensic Division differs from other areas of NMBHI, only in that it is surrounded by a perimeter fence for the purpose of maintaining security.
Adult Psychiatric Division (APD; Additional training and/or elective rotation):
The NMBHI-Adult Psychiatric Division (APD) is an acute inpatient psychiatric setting owned and operated by the State of New Mexico. APD provides voluntary, involuntary, and court-ordered behavioral health treatment to individuals, ages 18 and older, suffering from a major mental illness that severely impairs their functioning, their ability to be successful in the community, and who present as an imminent danger to self and/or others. The governing body of the New Mexico Behavioral Institute assumes overall responsibility for APD's operation.
Center for Adolescent Relationship Exploration (CARE; Additional training and/or elective rotation):
The Center for Adolescent Relationship Exploration (CARE) unit is a 10-bed residential psychiatric treatment facility owned and operated by the State of New Mexico. It is licensed as a specialty residential treatment center (RTC). The CARE Unit is specifically designed to provide treatment to adolescent boys ages13 to 17-1/2 years of age who have a history of sexually harmful behaviors and have been diagnosed with a co-occurring mental illness, or a mental illness that has produced a history of disturbances in behavior, age-appropriate adaptive functioning, and psychological functioning. These adolescents have frequently attempted to cope with problems by engaging in antisocial and self-destructive behaviors that have limited their ability to function appropriately and safely in a less restrictive environment. The severity of their disturbances requires 24-hour supervision within a secured locked facility. The average length of stay is about 1 year. This rotation requires a separate fingerprinting and vetting by the Child Youth and Family Department, State of New Mexico.
Long-Term Care Division (LTC; Additional training and/or elective rotation):
This rotation provides experience working with older adult populations within the Long-Term Care (LTC) Division of NMBHI. The LTC Division supports residents with nursing home / medical needs but is unique in that it serves a much more psychiatrically complex and neurologically diverse population than typical nursing homes. Clinical psychology intern experiences will include learning to recognize and diagnose numerous forms of dementia, developing appropriate nonpharmaceutical interventions, understanding neuroimaging and laboratory results related to psychological diagnosis and intervention, bedside clinical interviewing, medical chart review, brief individual or group psychotherapy, report writing, contributing to treatment team plans, and psychological assessment including capacity assessment for the courts, occasional neuropsychological assessment, and diagnostic assessment of acute mental status changes, including delirium, stroke, brain injury, or complicated general medical conditions.
Loan Repayment and Housing Opportunities:
Licensed psychologists working for NMBHI are eligible to apply for the New Mexico Health Professional Loan Repayment Program. Link for more info: https://hed.state.nm.us/financial-aid/loan-repayment-programs/health-professional
In addition, housing assistance (i.e., a one-bedroom apartment) may be available for an intern matched with NMBHI.
Contact Information for NMBHI:
Site Contact: Dr. Tim Shields
Email Address: Timothy.Shields@state.nm.us
Phone: 505-454-2203
Mailing Address: 3695 Hot Springs Blvd., Las Vegas, NM 87701